We got some glitches on the first hotel I booked for our stay in Cebu. While its too late to book in another hotel, I just contacted my friend who knows a pension house near Ayala area. Luckily, they have lots of vacant rooms and my friend readily helped us. He actually paid for our one night stay. It's really more fun in the Pilippines, right? =)
La Florentina pension house is located in the heart of Ayala center. Quite old and the first two floors were being used by the family of the owner. This is not the first time we stayed here. We also stayed here for one week last 2008. And the place is exactly the same. The bed, towels, rooms, the crews, I think, everything stayed the same. Some reviews online says this place really needs a serious renovation with some other negative feedback. But for me, I love vintage-looking places. The crews were really polite and friendly. All helpers know how to greet their guests everytime they see us. Clean rest rooms, working aircon, working hot and cold shower and most importantly, rooms are clean, towels and bedsheets smells really great. With its location that's walking distance to Ayala Center Mall, the Php800 per day, I think, is worth it.

The Terrace
Photo credit: iLink
The Lobby
The Way to the Rooms
My breakfast: Cheese Hungarian Sausage
Php120
My Grumpy's Breakfast: Kentucky Style Fried Chicken
Php120
Mushroom Soup Php80
They don't have a buffet breakfast so their clients needs to order from the lobby if they're too lazy to get up and get food somewhere. Since the place is quite old, it was a nice feeling to wake up with the sounds of birds in the trees around. If you decide to order food, you just have to be patient since they will only cook your food once you order. For our breakfast, I think, we waited almost 30-45mins. I remember, I was almost done reading the Sunday newspaper. You can have your food delivered to your room or you can go down to the lobby and enjoy the cold breeze of air while having breakfast.
My own rating:
Rooms: 3 out of 5
Food: 3 out 5
Service: 4 out of 5
Money: 5 out of 5
I definitely love this place. I just hope, the owner can somehow consider to renovate the place and make it better. I know, when I want to go back to Cebu with a tight budget, this place will be on top of my list to stay.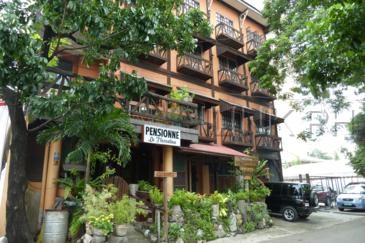 Pensionne La Florentina
Address: 18 Acacia, Lahug, Cebu City
Phone #: 032 253 4966 ; 032 410 7069