Happy National Chocolate Cake day!! This is also my 100th post. My FB friend told me on what's the reason to celebrate today. January 27 (US time) is National Chocolate Cake day! Just like what I did when it was the
national whipped cream day
, I'm making a simple chocolate cake today. It's chocolate coffee cake!
No-bake Chocolate Truffle Cake (Just chocolate, cream and coffee!)
Ingredients:
Butter
Parchment paper
Loaf pans
Chocolate, well-chopped ( I used Hershey's)
Whipped cream (also knows as heavy cream)
Instant coffee (I used Nescafe 3-1, since I don't have an espresso)
Iodized salt
Cocoa power
Preparations:
Lightly butter your loaf pan and line in your parchment paper. This is to make sure that the surface of your cake will be nice and will look great. Set aside.

Melt your chocolate in a double broiler (I used a regular kaserola topped with smaller kaserola) in a very low heat.

While your chocolate is melting, on another medium pan, heat the cream, pour in your coffee (I just used almost 1 teaspoon to avoid the bitter taste). Slowly stir with your iodized salt.

When everything comes together smoothly, mix the melted chocolate into your hot cream. Keep on stirring until all component's aren't at all separate.

Pour into your prepared loaf pan, cover with plastic wrap or aluminum foil (if you have). Refrigerate until chilled.

When ready to serve, remove from the pan, dust with a bit of cocoa powder.

Lastly, enjoy!!
By the way, you can also serve this with vanila ice cream on top or chops of almonds!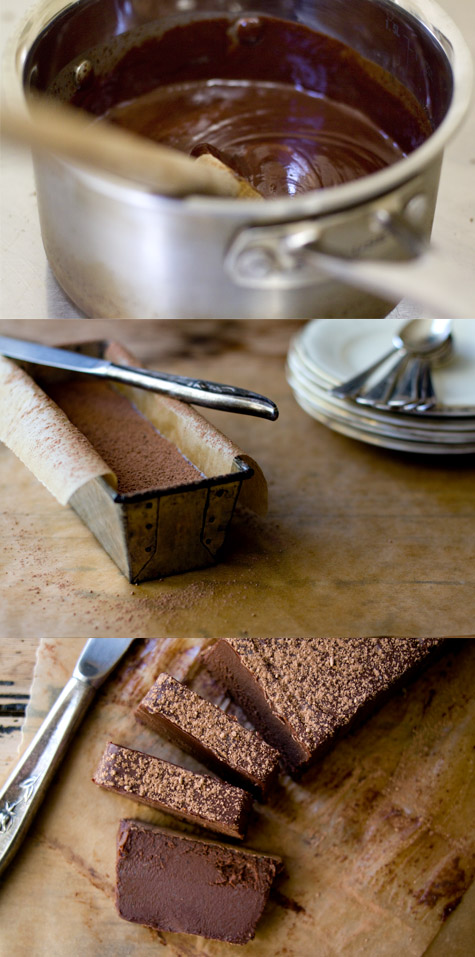 Photo credits: 101cookbooks.com
I just grabbed a photo online because, I think, mine is not as deliciously-looking like this. Haha!
That's it! Happy National Chocolate Cake day!!